Therapy Dogs
Where appropriate, children, young people and families may choose to have a dog present in their session (Inner West and Eastern Suburbs only). Our three therapy dogs at Kids & Co are Spoodles, a cross between a Poodle and a Cocker Spaniel.  Spoodles have woolen coats and do not shed, making them good for people with allergies to be around.
The therapy dog may simply be present in the room, or may become an integral part of the clinical work. Coming to Kids & Co. may be daunting – having a dog in the room may help to break down the barriers and help children and young people feel more at ease. Working with a Dog in therapy has been shown to have a number of benefits including;
Feeling more relaxed (reduced stress chemicals and heart rate)
Improvements in mood & concentration
Making therapy feel more friendly
Helping children and young people to talk about what is troubling them
At Kids & Co. (Inner West and Eastern Suburbs offices only) children, young people and families can work with our therapy dog in their therapy to learn new skills such as;
Improved communication
Reduced anxiety
Increased patience
Understanding body language
Improved empathy
Social skill development
     Maxxie  
Maxxie is Kids and Co's oldest therapy dog and has been assisting with therapy for the last 8 years.  Maxxie is grown up and sensible, yet young enough to enjoy all the kids, young people and families who come to see us in Balmain and Double Bay.
Maxxie is a graduate of Puppy School and very well trained. His calm approach and loving nature allow him to sit with children who are feeling anxious or afraid. He always seems to know who needs a little special time with him, and settles himself down next to children, young people and Mums and Dads alike. Maxxie specializes in helping kids who have phobias about dogs, but he is available for anyone who needs him.
When he is not at work Maxxie enjoys running, playing and retrieving the ball (and sleeping). When you come to Kids and Co (Inner West or Eastern Suburbs) just ask about him and we can make sure you are introduced!
     Tiggen 
Now a middle aged gentleman, Tiggen loves to work with children. Like Maxxie, he takes his job very seriously, and loves to lend a paw in therapy.  Tiggen tries hard to overcome his separation anxiety to teach children to be brave and confident.
       Olive Bea
Is the adolescent of the team.  She is bouncy and exuberant, and loves to boss everyone around.  She is practicing being calm and doing what she is asked.  Her listening skills are improving and she is proud to show children and families how good she is at helping others with their strong feelings.
Miniature Horses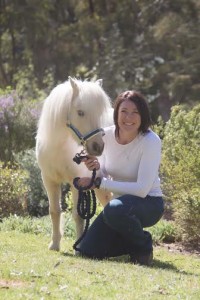 Equine Assisted Psychotherapy is an emerging field of clinical practice using horses to aid the therapeutic process. Whilst the field is young, and the evidence is still emerging regarding the interventions' effectiveness, its results are encouraging as a useful adjunct toward change.
Dr Anna Cohen of Kids & Co Clinical Psychology Inner West, is working collaboratively with Equine Specialist, Emma Caldwell, and their team, to provide Equine Assisted Clinical Psychology sessions where appropriate, to children, young people and families, through their program Heads & Tails Equine Assisted Clinical Psychology located in the Blue Mountains.
The program is experiential in nature and draws upon evidence based practices to support children and adolescents move toward psychological change. It is an innovative process of intervention, which is offered as an adjunct to current evidenced based treatments offered at Kids & Co. The program uses the experience of engagement with the team of miniature horses, along with the application of evidenced based therapy approaches to create change.  The process is aimed at allowing clients to learn about themselves and others, and this is done by clients' engaging in activities with miniature horses, and then processing the experience, and resultant feelings and behaviours, through the use of skills taught by the clinical psychologist.
The primary goals of Equine Assisted Clinical Psychology are to assist people with managing their emotions and behaviour in relation to others and their surrounds. This playful approach is aimed at helping children, young people and families to identify their behaviour and emotions in response to an experiential task, in conjunction with a miniature horse, nature, and the practitioners. This work encourages the development of the necessary skills for effective interpersonal relating including: confidence, self-esteem, appropriate social communication, capacity to trust, and an understanding of limits and boundaries, and group cohesion.
For enquiries and more information please contact Kids & Co Inner West directly or click here.