Dogs
Where appropriate, children, young people and families may choose to have a dog present in their session (Inner West and Eastern Suburbs only). Our three therapy dogs at Kids & Co are Spoodles, a cross between a Poodle and a Cocker Spaniel.  Spoodles have woolen coats and do not shed, making them good for people with allergies to be around.
The therapy dog may simply be present in the room, or may become an integral part of the clinical work. Coming to Kids & Co. may be daunting – having a dog in the room may help to break down the barriers and help children and young people feel more at ease. Working with a Dog in therapy has been shown to have a number of benefits including;
Feeling more relaxed (reduced stress chemicals and heart rate)
Improvements in mood & concentration
Making therapy feel more friendly
Helping children and young people to talk about what is troubling them
At Kids & Co. (Inner West and Eastern Suburbs offices only) children, young people and families can work with our therapy dog in their therapy to learn new skills such as;
Improved communication
Reduced anxiety
Increased patience
Understanding body language
Improved empathy
Social skill development
     Maxxie  
Maxxie was Kids and Co's first therapy dog and he assisted with therapy for 12 years. He is now retired.
     Tiggen 
Tiggen is grown up and sensible, yet young enough to enjoy all the kids, young people and families who come to see us in Balmain and Waverley. Tiggen is a graduate of Puppy School and very well trained. His calm approach and loving nature allow him to sit with children who are feeling anxious or afraid. He always seems to know who needs a little special time with him, and settles himself down next to children, young people and Mums and Dads alike. Tiggen specializes in helping kids who have phobias about dogs, but he is available for anyone who needs him. Now a middle aged gentleman, Tiggen loves to work with children. Like Maxxie, he takes his job very seriously, and loves to lend a paw in therapy.  Tiggen tries hard to overcome his separation anxiety to teach children to be brave and confident.
       Olive Bea
Is the adolescent of the team.  She is bouncy and exuberant, and loves to boss everyone around.  She is practicing being calm and doing what she is asked.  Her listening skills are improving and she is proud to show children and families how good she is at helping others with their strong feelings.
Miniature Horses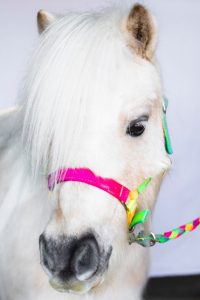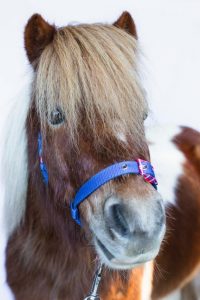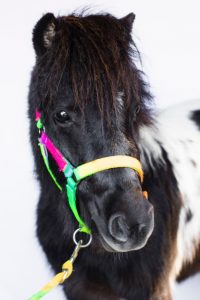 Equine assisted therapy is an emerging field of clinical practice using horses to aid the therapeutic process. Whilst the field is young, and the evidence is still emerging regarding the interventions' effectiveness, its results are encouraging as a useful adjunct toward change.
Dr Anna Cohen has developed the Heads & Tails  approach, and is offerring sessions where appropriate, to children, young people and families.  The approach is experiential in nature and draws upon evidence based practices to support children and adolescents move toward psychological change.
Heads & Tails is a unique approach to therapy developed to meet the needs of children and young people who struggle to engage in, or find formal room-based treatment too confronting and challenging. It is an innovative approach based in the Blue Mountains and Sydney, and is a process that is experiential and interactive in nature.  It is aimed at assisting clients to achieve emotional growth and learning, where the client is given the opportunity to engage with miniature horses, in activities that are designed to explore key psychological processes of thoughts, feelings, behaviours, patterns, awareness (mindfulness), and boundaries.
The Heads & Tails model draws upon a wide range of evidence based psychological treatment modalities and therapeutic approaches to establish individualised clinical interventions that are supported by therapy horses and equine practices in a tranquil outdoor setting. The approach utilises strategies from many modalities of clinical psychology such as cognitive behavioural therapy (CBT), dialectical behaviour therapy (DBT), acceptance and commitment therapy (ACT), Gestalt psychotherapy, and play therapy. Heads & Tails clinicians work with miniature horses and clients in a therapeutic partnership while immersed in play and nature. Heads & Tails differs from animal assisted therapies as, although horses are present, the therapeutic method utilised is not reflective of the traditional equine-assisted counselling/psychotherapy processes.
The Heads & Tails model is trauma informed and guided by neurobiological evidence which emphasises the importance of regulating the physical symptoms of the stress or flight response which are experienced in the body, and the central role of the therapeutic relationship. The horses at Heads & Tails play a role in both exposure to the stress response by creating vulnerability, as well as the regulation of the stress response through modelling. When horses detect a potential threat, they display overt physical and behavioural changes which indicate stress/flight response, and for the safety and survival of their herd, they engage in specific behaviours to help regulate the symptoms of flight response in their bodies to conserve energy.
Equine activities also encourage the awareness of the self and others, promote psychological flexibility, as well as allow scope for creative clinical interventions which are meaningfully experienced – the clinical team at Heads & Tails encourage movement and tactile/sensory experience to promote a deeper learning; and closely monitor the treatment outcomes to ensure their clients achieve, transfer, maintain their skills.
For enquiries and more information please contact Kids & Co Inner West directly or click here.